"Stop your ramblin', stop your gamblin'..."
-Van Morrison
The picture isn't pretty.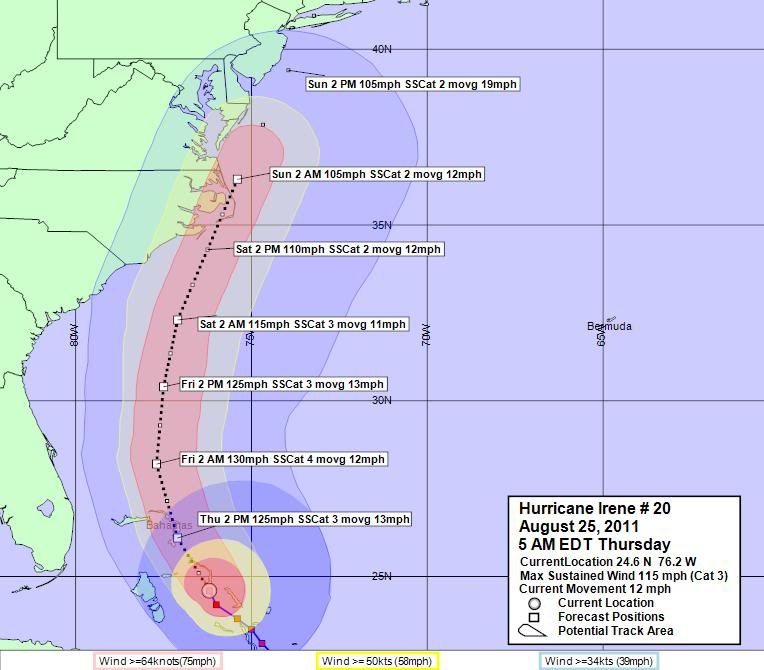 From the Outer banks to the Grand Banks, Irene is going to make her mark. Landfall looks to be in the area of Orient, North Carolina, home to one of the largest concentrations of boats on the East Coast. Storm surge is predicted to be up to 12 feet in some areas.
That storm surge has many Mid-Atlantic sailors nervous, with good reason. On an individual level, a boat secured to pilings that end 8 feet above high tide is going to be in trouble if it has to lift 12 feet. In the big picture, that kind of surge will cause widespread flooding that makes any damage caused to your boat seem inconsequential compared to the damage done to your home, and your community. That means that some skippers in the path of this witch have had to make a difficult choice- move the boat to a more sheltered hurricane hole or pull the boat out, strip the canvas and sails, or concentrate on prepping the house, or try to do a little of both?
Perhaps the best indicator of the storm nastiness level of Irene is this little nugget of storm news: Atlantic City is closing casinos ahead of the storm's arrival.
Closed casinos- if that isn't a sign of big trouble, nothing is.
My storm adventure Wednesday night looks like a sunshower by comparison.
To all of our East Coast readers, be safe. Here on the Dock, our thoughts are with you.