"I can see a better time, where all our dreams come true..."
-The Pogues
It's too late in the year to sail.
It's too early to contemplate next season.
The ground is too green to feel like Christmas.
It's not time yet for Toronto Boat Show coverage.
And I'm slumped in front of a computer screen, naked but for a blinking cursor.
(To clarify, the SCREEN is naked... as well.)
This is a damn tough time of year for blog content creation, which tends to lead to catatonic contemplation.
I gotta get out of this place.
I figured it was time to explore some local colour.
And I had to pick up some swag for an Australian blog follower.
And I had to remove the davits and retrieve some gear from
Whiskeyjack
that I could've sworn I had already brought home to Stately Jones Manor, but could not find.
So, being my lazy self, I killed three birds with one stone and headed to Dover.
With Lady Liberty crammed full of davits, solar panel and other gear, (with Hilary and Trevor's able help) and after a fortifying lunch at the Dover Dairy Bar, I decided to finish this mission with a stop at
The Robot Cafe
.
The Robot Cafe, and it's contiguous and connected neighbour,
Hobo Vintage Music
, just downslope from the Lighthouse Theatre on Main Street...
...represent the retail heart of the Eaglesmith empire.
Fred Eaglesmith is, for lack of any better descriptor, a troubadour. For more than three decades, Fred has fed his soul and made his bones as a touring musician. From time to time he'll take a break from the road, sit down in his own studio record an album, release it on his own label, then hit the road again, on his own terms. He doesn't get much airplay which is why he may very well be the best touring musician you've never heard of.
That's okay, his independence seems to be working for him.
Trust me, he's worth a listen.
If you have to pigeonhole Fred's music, "alternative country" is as close as you're gonna get, and it's still a miss. I'm not a music critic, but I am a music listener, and I like what I hear when I listen to Fred.
Eaglesmith and his band(s) sound like gumbo tastes.
Start with a base of Tom Waits, add a heavy dollop of Steve Earle, throw in some Chris Isaac for flair, a roue of Lyle Lovett for cynicism, fold in some Gordon Lightfoot for Canadian folk flavour, a dash of Stompin' Tom Connors for Canadian touring country counterpoint, top with some Eagles and The Band and sprinkle with Tom Petty and the Heartbreakers when serving. You might note a soupcon of the B-52s when backed by The Fabulous Ginn Sisters.
If an indicator of how well you write a tune is who covers your work, Fred is a hell of a songsmith, because he's been covered by the best, from Alan Jackson to The Cowboy Junkies to Dar Williams.
Alright, enough background and ass-kissing.
Andrew from Australia has followed the D6C from jump. It turns out he is a Fredhead, and, since loyalty has it's privileges, I offered to get him a "Winter Weekend" poster, advertising Fred's annual local Christmas gig at
the Lighthouse Theatre
. Deducing that the best place to get one is The Robot, I stopped in and asked at the counter. Dude behind the counter turns to other dude behind the counter who ducks into the back office and returns with a handful of pristine promo posters and cards.
Gratis.
Cool.
Turns out the dude with the swag is Fred's son, Tim, who runs the place. We get to talking and he lets me have the run of The Robot and Hobo with my camera.
The stores look like Fred sounds.
The Robot Cafe lives up to it's moniker.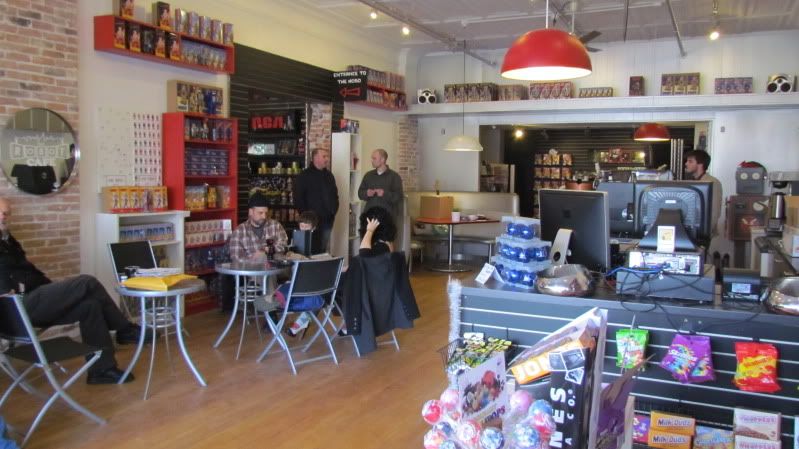 Great milkshakes and coffees:
Cool candy:
Racks of robots: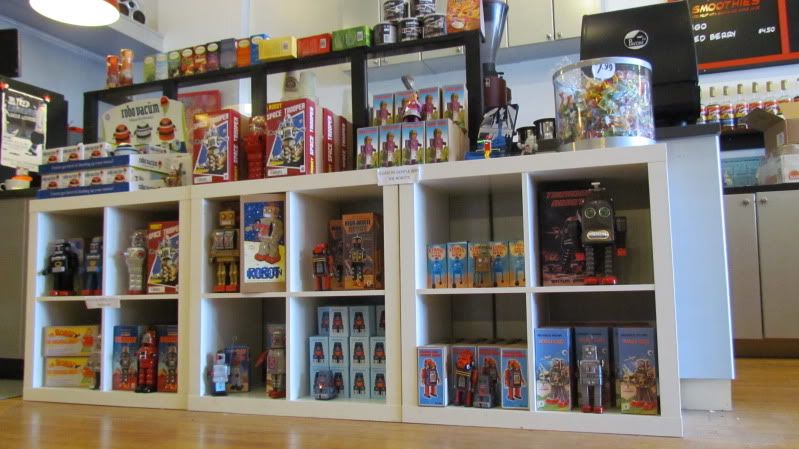 ...'nuff said.
Tons of cool stuff packs Hobo, from action figures to Zeppelin albums.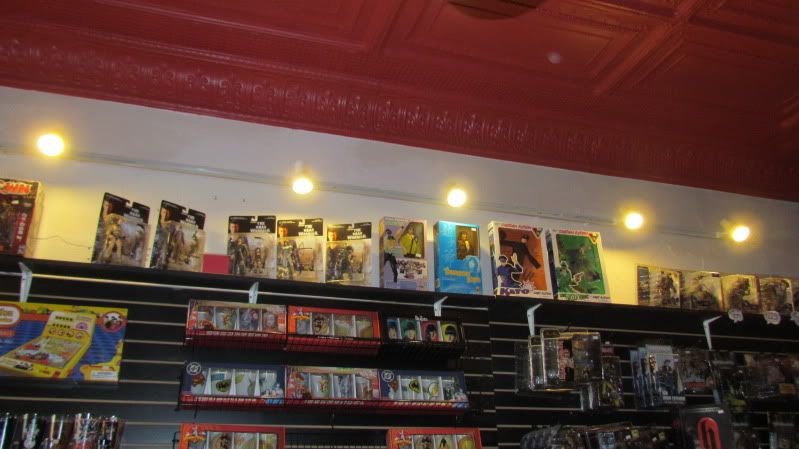 Port Dover is hard on entrepreneurs, especially retailers. It's easy to make money during the summer, but when the weather turns cold and the beach is bare, the ends don't always meet, and another "for rent" sign goes up, ready to snare the next dreamer. Hobo and The Robot Cafe are better than holding their own, finding a market that many didn't know existed.
Sorta like Fred.
"Talk the Dock!"