"I see clearly now what must be done...."
-Pepper
Right now is a hell of a time to be a dreamer.
Always wanted to live aboard a boat, go cruising, live the dream?
It's closer than you think, lately.
Used boat prices are down,
way
down in some cases, making dream fulfillment attainable.
At least, for those willing to do more than just dream.
This season we've seen a few dreamers on the Dock who decided to turn dreaming into living.
You've already met
John
, and heard about how he came to own a Sirius 22.
At the tail end of this season, I got the chance to hand
Whiskeyjack's
helm to another new crew for an
afternoon.
Alistair joined
Sailnet
looking for info on a boat he wanted to buy. I offered some time on the water and a couple of weeks later he took me up on the offer, and brought along his capable partner, Sam.
It was a typical snotty fall day on the Bay, with 3-5 foot chop and 15 knot winds. Fun was had by all, as seen below:
We talked about boats and living on boats and we walked the docks and looked at a few boats, and Alistair and Sam were able to narrow down what they wanted and needed when they eventually, you know, someday, bought a boat.
No doubt, they were hooked.
... and apparently the hook was well and truly set. A couple of days alter, I started to receive emails from Alistair linking boats for sale...and I started to fire suggestions back. Alistair and Sam began looking at boats in earnest, now that they had a rough idea of what they wanted and needed: Something that was older, but pretty much turn-key, needing little reconditioning, 30- 36 feet, $5-15 K. Might take a couple of years.
Last week, they bought this:
A Pearson 30. Project. The hull had been painted and the deck hardware stripped off in preparation for painting, and then the owner got financially sidetracked. Alistair and Sam looked at her, saw the potential, and bought her for less than the value of the keel.
I've seen worse.
If the Atomic 4 has decent compression, starts, runs and doesn't walk off the stringers,
the intrepid couple are well ahead of the game.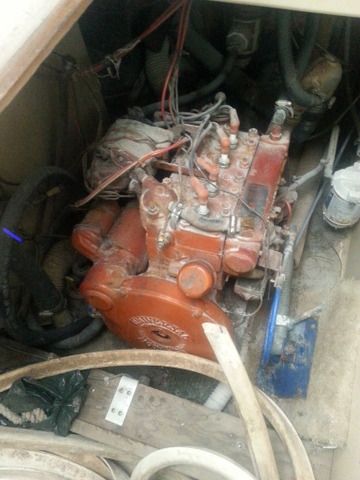 If it's beyond help, they can recoup their investment by parting the boat out, and maybe end up a little ahead.
As I mentioned, the cushions need recovering. Ahhh, the 70's.
Yeah, they've basically got a very big puzzle to put together, but as long as most of it is there, it shouldn't be THAT complex.
Dirty, sweaty, tough?
Sure.
However, if you can assemble furniture, bolting parts back onto a boat is pretty much the same thing, with the added bonus of bedding with butyl rubber or 4200.
(Yeah, I know, as I see the old boatyard slats shake their heads, it really isn't
that
easy, but no boat would ever gotten back in the water if the owner/dreamers knew how much gruntwork it really is.)
And, as another added bonus, the new boat owners will know every inch of their boat before she goes in the water.
Folks, please welcome Alistair and Sam to the tribe. I think they are in for the long haul.
You can follow their adventures here:
Craving Wanderlust: Sailboat Adventures