"Never seem to get a lot..."
-Supertramp
Port Dover is not lacking in eating establishments. Within two blocks of the beach one can find hot dogs, hamburgers, french fries, ice cream, onion rings, onion chips, onion soup, burritos, nachos, perch, pickerel, clam strips, steaks, chicken, ribs, salad bars, salad carts, Salada tea...
But breakfast?
Not so much.
For breakfast you have to get Behind the Beach. This season SWMBO and I set out to try the regular breakfast joints in town, and compare the fare.
Our testing criteria was simple- Eat the same meal at each establishment and compare...
Price
Portion size
Service
Appearance
and
Ambience
....To determine which joint offers the best overall value.
Our recon of the Port resulted in a Best Breakfast Challenge shortlist that is really short.
Total breakfast joints in town: three....
...and a half.
The Dover Dairy Bar, The Coffee Shop, and Angelo's/ Angelo's Side Door Bistro were the contenders. The "half" is the Brant Hill Inn, which serves breakfast only on weekends, only during the summer months. In the interest of being able to provide accurate useful information year-round, we left the Inn off the test roster.
You're welcome.
To keep the playing field level, we ordered the same meal at each restaurant, opting for the BCB ( Basic Complete Breakfast): Two eggs, bacon, toast, potatoes, coffee.
Here's the results:
Third Place:
Dover Dairy Bar
For years, the Dairy Bar has been our go-to breakfast joint. The grub was cheap, and the scruffy furniture and carpet was overshadowed by the dozens of historical photos of the Port that adorn the walls, giving the place the feel of an informal archive of Dover back in the day. The service was always friendly, and while not quick, you usually got a meal that was tasty and hot.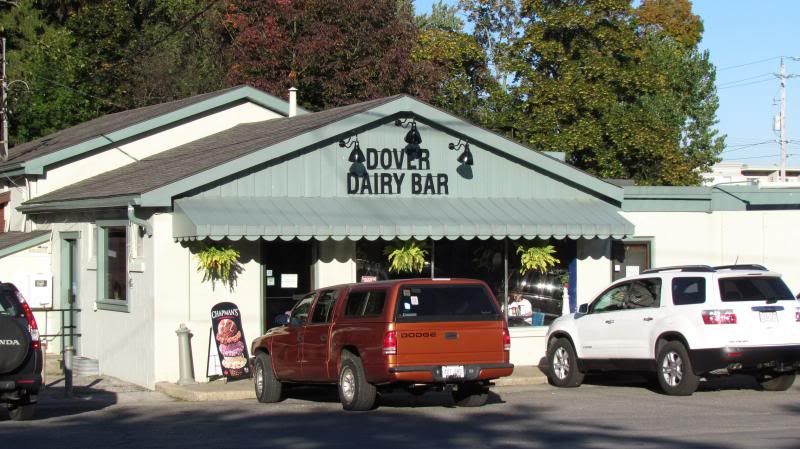 This summer, though, we found ourselves underwhelmed. The breakfast and the service and the decor aren't suddenly horrible, but the Dairy Bar is slipping. A paint job and new carpet wouldn't go amiss, and the service could be a little more polished...I'm not expecting waitstaff to recite a mouth-watering array of specials from memory and my water glass to never be empty, but make sure that tables are served and coffee topped up before retreating behind the counter to text. The portions are smaller in subtle ways- the eggs are medium, not large and the bacon is thinly sliced, for example.
There are better options for breakfast.
(Having said that, the DDB remains the best choice in town for ice cream- lots of flavours of hard ice cream served in generous portions that overwhelm the cone underneath, cheaper than anywhere else in town.)
Second Place:
Angelo's
This was a tough call.
Angelo's wins on price- $4.95 all in.
Angelo's wins on portion size- there wasn't any room to spare on a large plate packed with big eggs, a heap of homefries and slices of thick cut bacon, all cooked perfectly.
Angelo's wins on service- our meals were served fast and hot, and our cups never went empty.
BUT...
Angelo's is a bar, and it feels like a bar, even at 9 am, UNLESS you wander around the corner into the aptly named "Side Door Bistro," which feels like a stripped down version of the Dairy Bar- less history on the walls, more history on the floor.
And, Angelo's is only open for breakfast on weekends.
which means that...
First Place
goes to The Coffee Shop.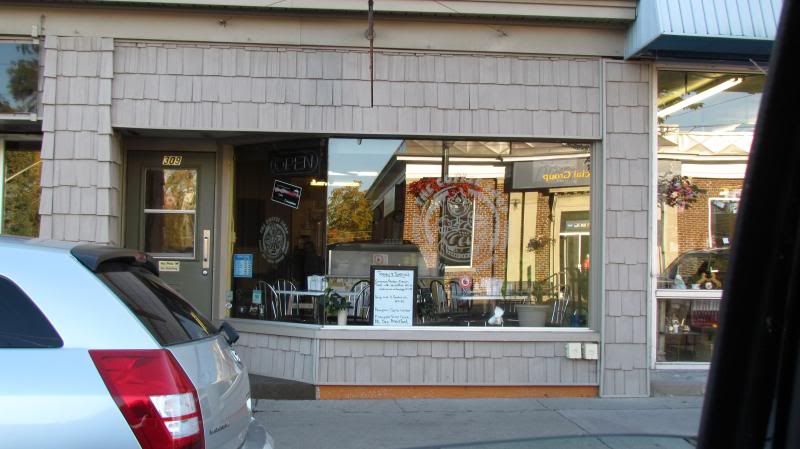 The Coffee Shop is small and comfy, clean and brightly lit. The food is good, portions large and SWMBO and I both agree they have the best toast in town. The only quibble is that the hash browns are sometimes a little undercooked. Service is efficient, and when you see what goes on behind the counter you may be amazed at the results.
This place has no fryers, no broilers, no ovens, no flattops, none of what you would expect to find in a restaurant kitchen. There are two countertop electric griddles. You may have a similar one at home, that you may also cook breakfast on. That's it, as far as cooking gear goes. It's unorthodox, but seems to work just fine.
The Coffee Shop is a little more expensive than Angelo's, but breakfast for two will still come in under $15 with tax. You won't go away hungry, and you will come back.
Come on down and join us for breakfast some time. Coffee's on me.
"Talk the Dock!"